Blog Archive
Blog Archive

Popular Posts

Wednesday, June 1, 2011
2:37 PM | Posted by Vikkey Edwards
|
Edit Post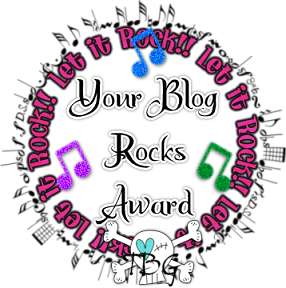 I got my first award! This award is from
Rockin Robins Tuts!
Thank you so much hun! ♥
This award is to acknowledge blogz that rock.
If you know a blog that rocks and want to give them this award
then send them a message saying... "Your Blog Rocks"
Since I have accepted this award from Wicked I must pass it onto
5 other people that I think their blogz rock.
There are no rules to this award
only that you send it to 5 people that you think deserve this award.
Make sure you leave them a message.


The 5 blogz I picked are listed below.....

1. http://mariespalaceoftuts.blogspot.com/?zx=e588f9ba235fb366
2. http://addictivepleasures.blogspot.com/
3. http://riekarafita.blogspot.com/?zx=9757055a0459475b
4. http://scrapswithattitude.blogspot.com/
5. Sinister Sisters Tuts
About Me
Vikkey Edwards

Hi there! I am the mom of two great kids John David who is 11 and a daughter Cierra who is 10. I have been married to the love of my life for almost 11 years now. I have been in PSP for about 2 years now and im loving it! Thanks to a very special friend who pushed me to write tuts! Loves ya girlie! That's about it from me. Want to know anything else please feel free to ask me.! Want to contact me or show me the results of one of my tuts please email me @ tutsbyvikkey@yahoo.com
View my complete profile

Give a yell!